The unusual tube shaped incandescent lamp shown in this article was added to the collection in March of 2007. I have finally had a chance to document the lamp and include some information that may be interest to other collectors.


The Rayline No Shadow straight filament lamp
This carbon filament lamp measures about six inches long and is roughly one inch in diameter. The filament is a straight wire held taut between right-angle shaped platinum lead-in wires at each end of the lamp. Small cone shaped brass contacts are cemented to the glass which form the electrical contacts. The lamp has an attractive and thick ink label located in the center of the glass tube which reads in script "THE RAYLINE LAMP" & "NO SHADOW" with an outline of the tube shaped lamp. A rectangular shaped paper label is opposite of the tip end and provides two patent dates- 8-23-04 and 10-25-10. The label also has a hand written voltage of 116 volts. The lamp is similar in appearance to the H.W. Johns-Manville Linolite.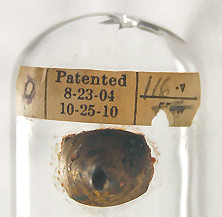 Paper label with patent dates and voltage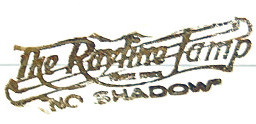 Close-up showing ink marking label
Armed with the patent dates, I began to research who actually made the odd lamp. After spending some time searching patents, I hit upon the 1904 patent date that is listed on the lamp. US Patent No.768,479 was issued to Dennis Joseph O'Brien of San Francisco, California and assigned to the O'Brien Reflector and Electric Tube Lamp Company. A portion of the patent abstract is provided below which describes the lamp's design.

"One object of the invention is to provide a novel means or method of holding up the filament within the tube, whereby its accurate adjustment and safe anchorage are secured previously to and without interference from the sealing of the tube, these operations now becoming less difficult to accomplish in the manufacture of this class of lamps.

A second object correlative of the above is so to anchor the filament as to keep it uniformly straight and under every thermal or antithermal condition, thereby preventing or at least minimizing its vibration from any cause and further precluding its coming into contact with or getting dangerously near the walls of the surrounding tube, owing to flexure, or by bowing or sagging, this notwithstanding the filament's greater than ordinary length and corresponding tenuity.

Another object is to reduce to the smallest practicable dimensions the metallic contacts needed to place the lamp electrically in circuit and to so locate the same that facing the lamp one will see nothing but the glass tube and filament therein nor anything else on any side except a tiny metal piece at either end, and when the lamp is lighted the viewer will behold an unbroken line of light and a luminous sheath therefore shining brightly from tip to tip with no furnishings or appendages to break its continuity and impair its brilliancy.

A further object is to provide a ready and convenient means of attachment for the lamp, whereby it can be suspended, framed, or bracketed and held in any desirable position in perfect safety both as regards itself and its mounting.

A still further general object is to produce a superior lamp involving a mode of manufacture that is simplified and cheapened and easily practiced with better, surer, and more enduring results than heretofore."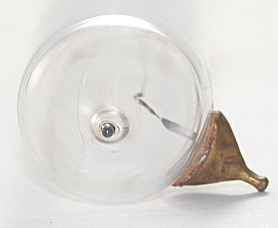 End view showing exhaust tip and electrical contact


Perspective view
Further research reveals other lighting patents granted to D.J. O'Brien including many unique fixtures and reflectors specifically designed for the straight filament type lamps. The fixtures took advantage of the lamp's design and were designed such that they did not restrict any light produced from the straight filament. It is also interesting to note that the lamp pictured here, when discovered by the previous owner, was fitted to such a reflector. Unfortunately the original reflector and fixture are long gone but the lamp has survived. Patent illustrations are shown below that convey what the unique fixture may have looked like.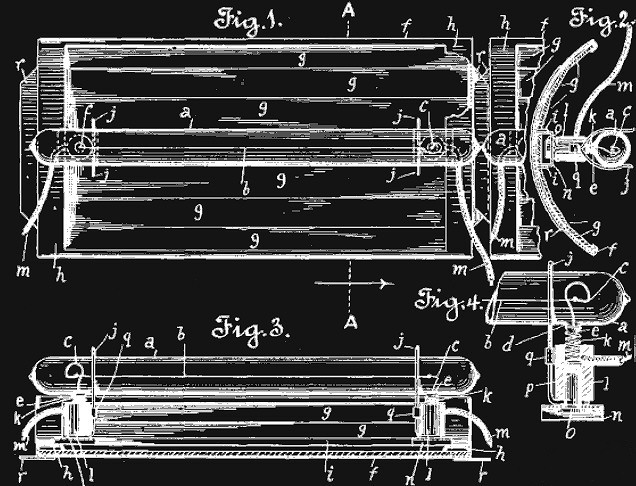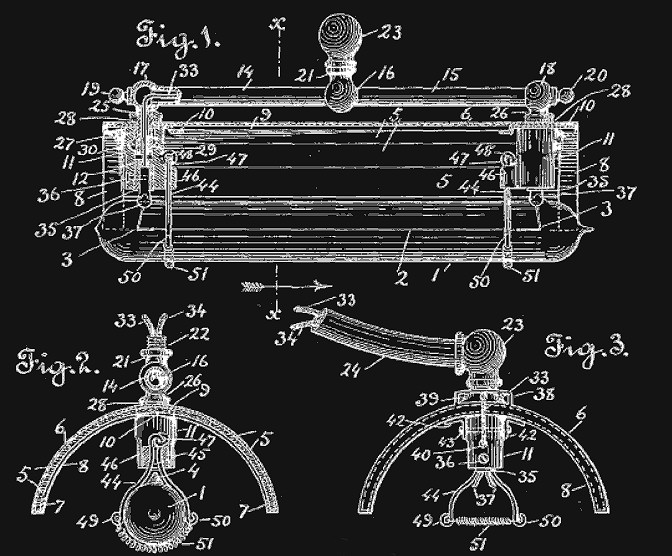 The patents listed below are others filed by Dennis Joseph O'Brien and this list may not be complete. These patents are all related to similar straight filament lamps and reflectors. The last patent in this list refers to a mercury pump. The earlier patents were assigned to the O'Brien Reflector and Electric Tube Lamp Company in San Francisco while later patents were assigned to the Straight Filament Lamp Company of New York. The later company is noted as being a manufacturer of lamp reflectors for the New York Edison Company from at least 1912 through 1916 and probably later.
| | | |
| --- | --- | --- |
| US Patent No. | Patent Date | Patent Title |
| 744,387 | 11-17-1903 | Reflector |
| 768,479 | 08-23-1904 | Incandescent Electric Lamp |
| 964,474 | 07-12-1910 | Manufacture of Incandescent Electric Lamps |
| 974,090 | 10-25-1910 | Lamp and Reflector Therefor |
| 1,110,076 | 09-08-1914 | Incandescent Electric Lamp |
| 1,127,082 | 02-02-1915 | Reflector |
| 1,154,585 | 09-21-1915 | Mercury Pump |
Adding to the scant information, this snippet appeared in the July 1912 issue of Architecture and Building. The article mentions the 1912 New York Electrical Exhibition and Automobile Show and new electrical innovations on display by the New York Edison Company. It is in this context that the Rayline lamp is mentioned.
From the standpoint of electric lighting there were many exhibits, of which the tungsten and tantalum lights furnished a brilliant display. A new carbon filament tube lamp was exhibited-the Rayline lamp-which is of very considerable merit and will undoubtedly come into extended use."
This snippet has been reproduced from a 1913 lighting journal:
"The Rayline Lamp - Lamp without a Shadow is the title of a very attractive collection of bulletins published by the Straight Filament Lamp Company, 125 West 42nd Street, New York, have illustrated their Rayline lamp in connection with their extensive line of mirrored trough reflectors for show window, show case, bank grille and desk lighting."
Finally, this ad has been reproduced from a 1914 college fraternal journal:
"The Rayline Lamp
NO SHADOW
Rayline Desk, Piano and
Table Fixture Style Pg
For illuminating roll and flat top desks, pianos, typewriters' desks, and library tables and for general office and home use. The curved part of this fixture works on a swivel so that the reflector can be raised or lowered at will. This makes the fixture convertible for many different uses. The metal is brass, brush finish and the special patented Rayline Reflector carries one Rayline Lamp (with 12-inch straight filament).
Price complete $10
McKenney
& Waterbury Co.
BOSTON . MASS. USA
Sole distributors for
New England"
I would welcome any more information about Dennis O'Brien, the Rayline lamp, history or ads concerning any of the companies mentioned above.